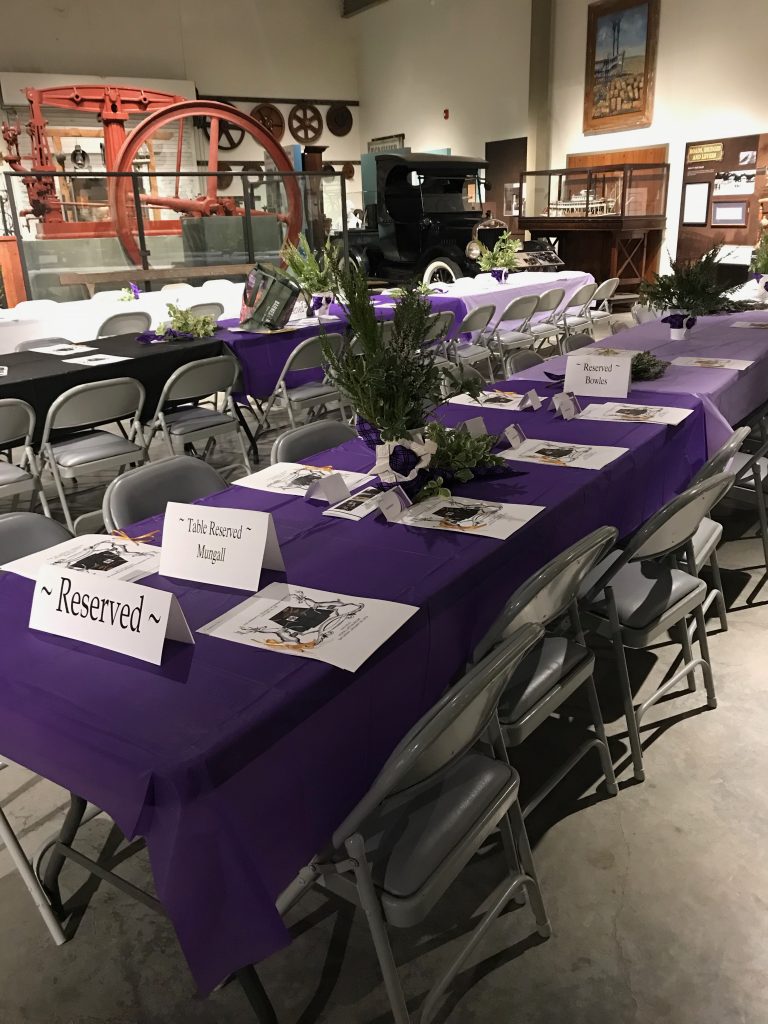 Burns Night Supper at the LSU Rural Life Museum
*Caledonian Society of Baton Rouge – 2020 Burns Supper – Saturday, February 1, 2020.  Reservations can be made soon on this website.  Watch this space.  LSU Rural Life Museum. This is a pot luck dinner with an emphasis on Scottish Foods. Don't mis the traditional Haggis Ceremony, Bagpipe Music, Scottish Musical Stylings of the New Orleans Strathspey & Reel Society, The Immortal Memory of Robert Burns, Scottish Traditional Dancing, Auld Lang Syne.
Go to the Reservations Page for information about advance reservations.
The Caledonian Society of Baton Rouge's Scottish Cultural Study Group
The CSBR Scottish Cultural Study Group will begin their 2020 meetings in February, 2020. Here is the tentative schedule, but for information closer to the events, contact the Coterie Queens:
Feb. 26: Ladies' Fashion Show with Member Models; Catherine Mungall & Lilly Bridwell-Bowles, Emcees; possible venue—Woman's Club
Mar. 25: British & Scottish Influences on Southern Cultures; possible guest speaker, possible venue—Phil's Oyster Bar
April 29: TBA
May 27: Caledonian Cookbook Cook-off: Best of Our Recipes from the CSBR Cookbook, Potluck; possible venue: Harris's Home
Ongoing Events: 
See the pages for the Scottish Dancers, Pipe and Drum Band, and the Broadsword Academy for ongoing events.
Activities sponsored by Scottish groups in the region:
Our band and other members participate in activities sponsored by other organizations nearby, and our members often attend  in groups.  Contact us is you are interested in any of the following:
Caledonian Society of New Orleans – 2020 Burns Supper – Saturday, January 25, 2020, Southern Yacht Club, More details will be available closer to the time. Be sure to mark your calendar! The Southern Yacht Club is always a festive venue. This is a evening affair so, if you have been wanting an opportunity to wear your evening Highland attire this will be an opportunity to don it all!
CelticFest Mississippi – Mar 27 – 28, 2020, Mississippi Agriculture & Forestry Museum,
1150 Lakeland Dr, Jackson, MS 39216.
http://celticfestms.org/wp/
Arkansas Scottish Festival, Friday through Sunday, April 3, 4, & 5, 2020. Lyon College, Batesville, Arkansas. This is another great Highland Games where there are significant benefits to being a Patron of the Games. It's a 499 mile drive and it takes about eight hours to drive up to Batesville, Arkansas. Finding lodging requires planning. Dogs on leashes are welcome at these Games.
https://www.facebook.com/pg/ARScottishFestival/photos/?ref=page_internal
Scottish Tartan Festival
When: April 2020 Details TBD
Where: Scotland Farms, Minden, La.
Website: http://scottishsociety.wixsite.com/tartan-festival