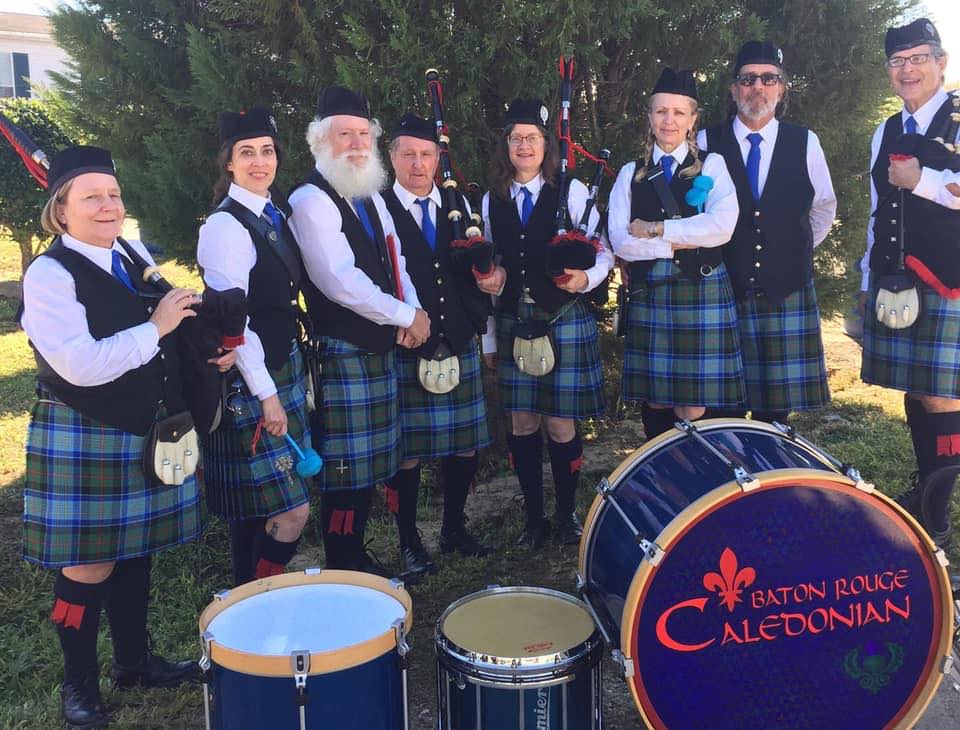 The Baton Rouge Caledonian Pipes and Drums, established in 1976 as part of the Caledonian Society of Baton Rouge, offers FREE lessons for the Great Highland Bagpipes as well as Scottish pipe band drumming. The band's teaching program feeds the performing band which plays over 100 performances each year and is currently the state's largest Scottish band.
BAND MARCHES IN A RECORD-BREAKING NUMBER OF 2022 MARDI GRAS PARADES, AS WELL AS BATON ROUGE'S ROLLICKING ST. PATRICK'S DAY PARADE!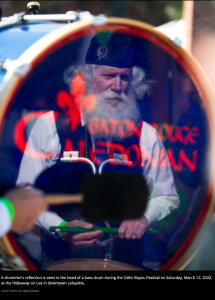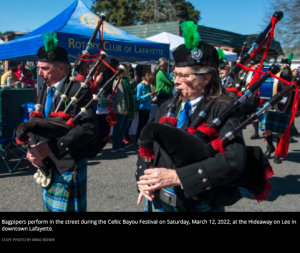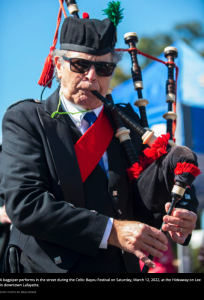 LATEST HONOR FOR THE BAND:  
EUSPBA has officially regraded our lead stick, Chris Pierce, moving him from Grade 3 up to Grade 2.  Congratulations, Chris, we are extremely lucky to have you as a member of our band. You are the glue that holds the drum section together, and your knowledge and patience are invaluable.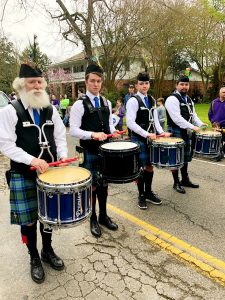 Chris Pierce, left
Chris began drumming in the 4th grade and continued into high school. He was named 1st Chair in the Louisiana All-State Band in 1976 while attending Belaire High School in Baton Rouge.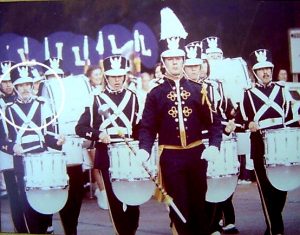 After high school, he played with the Louisiana State University Tiger Marching Band, 1977-1980, and when he has the opportunity, Chris continues to play with the LSU Tiger Alumni Band in their annual halftime shows.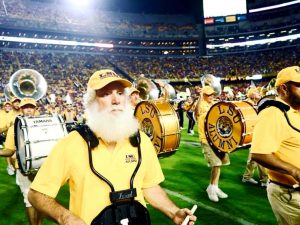 In 2010, Chris visited Scotland during Hogmanay and was enamored with all of the pipe bands at the various local events. As soon as he returned home, he joined the Baton Rouge Caledonian Pipes and Drums.

When asked why he has stuck with it for the past decade, he said he enjoys the challenge of the Scottish pipe band style of drumming. But more importantly, he said, he enjoys the camaraderie with band members and traveling to band competitions in places like Glasgow, Chicago, St. Paul, etc. with both the Baton Rouge Caledonian Pipes and Drums and the Turlach Ur Pipe Band.

Congratulations again, Chris, and Slàinte!
As things are returning to normal, you will see updates about the Band's activities and classes, on the Caledonian Events Page.