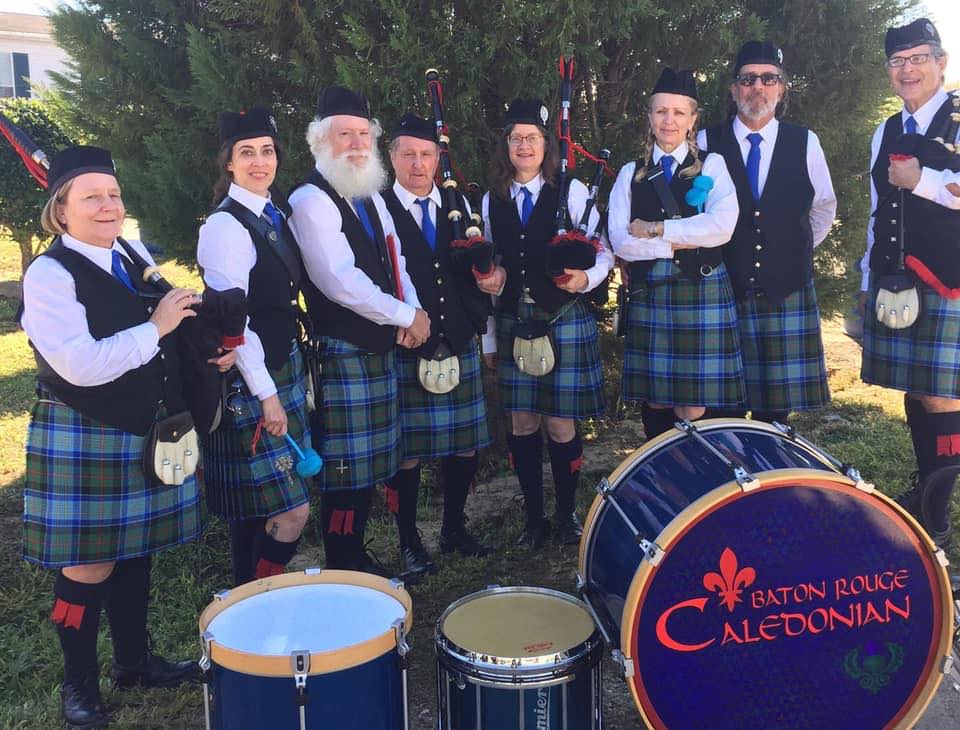 The Baton Rouge Caledonian Pipes and Drums, established in 1976 as part of the Caledonian Society of Baton Rouge, offers FREE lessons for the Great Highland Bagpipes as well as Scottish pipe band drumming. The band's teaching program feeds the performing band which plays over 100 performances each year and is currently the state's largest Scottish band.
For more information about the band's classes or all of the upcoming performances, see the Caledonian Events Page.
Mardi Gras Parades and More!
St Patrick's Day:
March 14 – Saturday *Celtic Bayou Fest Lafayette*: Location: Warehouse 535, 535 Garfield St., Lafayette, La; Play time: TBD
May 24 – Sunday *Kirking of Tartans – Hammond*
Location: 1st Presbyterian in Hammond, 411 W. Charles St., Hammond, LA
Start time: 10:00 am
September 19-20 ***Scot Fest – Tulsa*** – Competition (pending)
October *LSU Rural Life Harvest Days*
October *Global Community Day*
October 17 ***Stone Mountain Highland Games *** – Competition
October *BR Halloween Parade*
October 25 – Sunday *Kirking of the Tartans* – First Presbyterian Church, Baton Rouge
November 14 & 15 *Highlands and Islands Festival* – Gulfport, MS
November – Battle of the Bayou (LA Ren Fest) – Hammond, LA
November 29 – Sunday *CSBR St. Andrews Brunch* – Houmas House
December – Sunday *LSU Rural Life Christmas*
December – Sunday *Lafayette Christmas Parade*
December 18 – Saturday *Wreaths Across America* – Port Hudson National Cemetery
December – Saturday *BR Christmas Parade* – Downtown BR, LA
December 24 – Thursday *Bocage Christmas Parade*