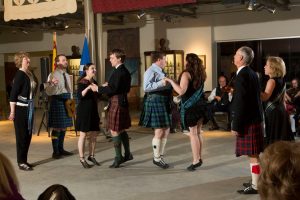 Founded by members of the Caledonian Society in 1989, The Baton Rouge Scottish Country Dancers have danced around Louisiana and the Gulf South at both public and private functions for over twenty years. They are however, a primarily social group and dance because it's fun! You are invited to come join the dance!
Now that the CDC has lifted some restrictions, the dancers are gathering and rehearsing!  For information about regular meetings and special events for dancers, contact the Dance Leader.
See much more on the Scottish Dancers' Facebook Page.
Dancers dancing, teaching, and inviting the crowd to join in…